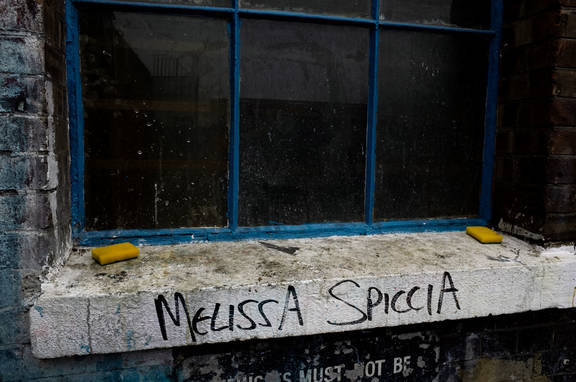 _.. Hunting out ourselves. Evidence that something somewhere did exist. 
Candid, intimate, expressive: these are some of the words that spring to mind when looking at Melissa Spiccia's work. Through processes of abstraction and distortion, Spiccia's practice is rooted in her explorations of the body and its dynamic interplay with the inner self.
Working with photography and poetry, Spiccia has an intuitive approach to her practice, one in which allows her to be present and respond to the moment.
Her photographs, possess an intrinsic candid quality, uncovering hidden realities on the surface of the skins of her sitters. The body becomes at once a subject and a medium of expression; searching beyond the persona, Spiccia attempts to reach into and harmonize the unconscious, seeking to reveal something of the anima of the figures being portrayed.
Routinely working with a prime or macro lens, the tight framing of Spiccia's photographs creates certain intimacy, beckoning viewers to be both witness and participant to the experience. She has a keen eye for details and cohesive colour palettes, which help to evoke a tangible sense of emotion. She develops each of her images on the screen and then again when they are printed, progressing her representations and opening them up to new interpretations. The process becomes a compulsion with truth remaining at arm's length.
Spiccia's photographs capitalise on the duality of stillness and movement, and often the figures appear blurry, recalling the are-bure-boke (rough, blurred, out of focus) aesthetic of Provoke, a radical photography magazine and avant-garde movement in post-war Japan whose members sought to break the rules of traditional documentary photography through a more self-expressive approach. For Spiccia, the use of blur or distortion in her photographs helps her to get closer to the reality she is experiencing or trying to convey. In these images the depicted bodies or body parts, evolving and hazily intertwining with the surroundings, take on their own expressive form, evidencing how their living self, there and then, did in fact appear to exist.
Text accompanies each of Spiccia's series, poetic readings that seek to engage viewers in a similar inner dialogue. The choice words paint a vivid picture, one that enables viewers to experience a tangible connection to the works, and to move within the images as though moving through another body or mind. As the Argentine author and poet Jorge Luis Borges famously wrote: "The taste of the apple … lies in the contact of the fruit with the palate, not in the fruit itself; in a similar way … poetry lies in the meeting of poem and reader, not in the lines of symbols printed on the pages of a book. What is essential is the aesthetic act, the thrill, the almost physical emotion that comes with each reading."
Text by Jennifer Angus,2020 © Maris World